Michigan Club
Kings Point and Sun City Center
Florida
THE MICHIGAN CLUB, one of the oldest and largest clubs in Kings Point, has a long history of providing fun and entertainment for its members. There were approximately 400 members in 2016-2017.
The club takes summers off. Ticket and membership sales each Tuesday in the North Club Lobby. Click on "Events" link at the top of this page for details about the 2017-2018 Events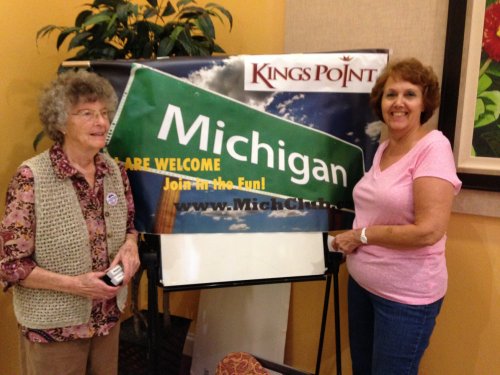 Membership is just $5 per individual member. Members get discounts on all Michigan Club events. Our year starts in October with the Welcome Back Party (Thursday, October 26th). When you pay your dues for 2017-18, you'll be covered through our year (until May 2018).
It is hoped that the Michigan Club website will become a resource for members. It may also be of interest to those who want to know more about this lovely Florida community (located southeast from Tampa off I-75 at exit 240A).
Many of the Michigan Club members previously lived in Michigan but are now located in Florida or are currently "snowbirds," dividing their time between the two states. It should be noted that ALL Kings Point and Sun City Center residents are welcome and a Michigan connection is NOT required (although you may find a preponderance of maize and blue or green and white at Michigan Club gatherings.) Someone said you just have to know how to find Michigan on a map to be welcome at our events.
The Events link at the top will provide you with the most detailed information available for the 2017-18 season.
We welcome your suggestions and we'd love to include your photos of Michigan Club activities!
SNOWBIRDS!
You can now follow what's going on in Kings Point (and Sun City Center) when you aren't here! We can watch what was previously only available on the closed circuit channels within Kings Point. (Just scroll down the page to the third slideshow window.) It's nice to be able to stay abreast of the activities in our Florida community.
Channels 95 and 96.
Kings Point Residents' Facebook page allows folks to keep up to date on what's happening in our lovely community. It's especially good for snowbird home owners. You can follow reminders about community events and even find out about storm damage, plans for the community and more.
Kings Point Facebook Page
---
Important Note: To be sure you're viewing the most recent version of the site, be sure to hit the "refresh" icon at the very top of your internet browser every time you return to the site or go to a new page.
Looks like this:

Our Community
The Premier Lifestyle Retirement Community
Publications
Activities in K.P. and S.C.C.